Meet Our Team
Amy
Dental Hygienist

Amy has been a practicing dental hygienist since her graduation from Shawnee State University in 1992. Before hygiene school, she graduated from Buffalo High School. She resides in Lavalette with her husband Jason, daughters Kinley and Cambrie. In her spare time, she enjoys spending time with her family, shopping, and reading.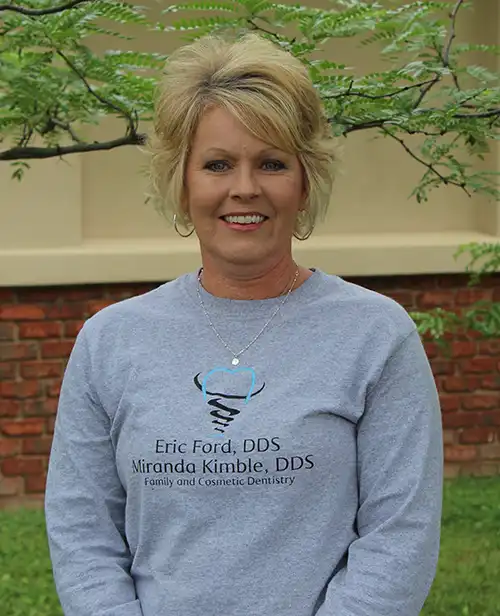 Jennifer
Receptionist

Jennifer resides in the Kenova area with her husband David and son Cameron. She graduated from Buffalo High School and attended Marshall University. While Jennifer is new to the field of dentistry, she has worked in customer service for 25 years. When Jennifer is not working, she enjoys spending time with her children and grandson.
Kellie
Dental Assistant

Kellie began her career 20 years ago working as a dental assistant. Her favorite part of her job is providing patients the experience of good dental care and the feeling of a great smile. She loves getting to know her patients and building long term relationships.

Kellie grew up in the Buffalo/Wayne area. She loves spending time with her three children a new grandson.
Sherri
Dental Assistant

Sherri is a Huntington native with 40 years of dental assistant experience. She enjoys her work and has a dedicated passion for our patients. Sherri is married with one daughter, two granddogs. In her time off she enjoys the sun, warm weather, and the beach!
Stefani
Dental Assistant/Receptionist

Stefani is a 2005 graduate of Spring Valley High School. Prior to entering the dental field, she worked in early childhood development. Her outgoing personality and willingness to help makes her a great addition to our team.

She enjoys meeting new people and loves watching football. Stefani is the very busy mom to 4 children. She also coaches her sons' youth baseball teams.
Monica
Office Admin

Monica graduated from Vinson High School and attended Marshall University. She has 30 years in the dental field, as both an assistant and office administrator. Monica has enjoyed watching her younger patients grow up and have families of their own.

Monica spends her time away from work reading, playing tennis and traveling with her husband Jerry. She loves ballparks (Go Reds!) beaches, brunch and anywhere The Herd is playing. Monica is also the proud mom of son Blake.
Kariann
Dental Hygienist

Kariann is form the Milton area where she resides with her husband Denny and three children Tanner, Landon and Kerrigan. She graduated from Cabell Midland in 1995 and is a 1999 graduate of WVUIT with a degree in dental hygiene. Kariann enjoys meeting new people and trying to help patients feel at ease during their dental appointment.

When away from the office she loves shopping, reading and spending time with family and her pets.
Gina
Dental Hygienist

Gina resides in the Spring Valley area with her husband Jeff and daughters, Katelyn and Lauren. She attended Tolsia High School, Marshall University and Shawnee State University. Gina has been practicing as a dental hygienist since 1997.

In her free time she enjoys spending time with family, exploring our beautiful state of West Virginia.
Lori
Office Admin

Lori has a background in Case Management and FEMA training, which has greatly helped with her new career in dentistry.

Lori resides in Barboursville with her husband Doug and loves spending her free time with family and her dog Cooper.
MaryJane
Dental Hygienist

MaryJane has been practicing dental hygiene since she graduated from West Virginia University in 2000. She graduated from Van High School in 1996 and now resides in Barboursville, WV with her husband Chris, son Ethan and daughter Abigail.

When she isn't working, she enjoys giving back to the community, party planning, crafting and playing with her dog, Milo.
Tessa
Dental Assistant

Tessa went to Wayne High School and graduated from Marshall University with a Health Science degree. She has been in the dental field for 6 years and enjoys watching patients grow confidence with a new smile.

In her free time, Tessa likes spending time with her dog, being with friends and enjoying the outdoors.